The obvious question people would ask upon seeing the VG23 in the hayloft was, 'how are you going to get it down from there'? Over the years we'd joke about elaborately far-fetched schemes for accomplishing this task. Eventually though we'd conclude the answer was equally obvious – 'it'll require a crane'.
So last weekend a team from Grues Gendron arrived to lift the boat from the hayloft. It seems that nearly every major task in this boat building project has had a mis-start or two and, following that tradition, the first crane to arrive would not fit into the barn.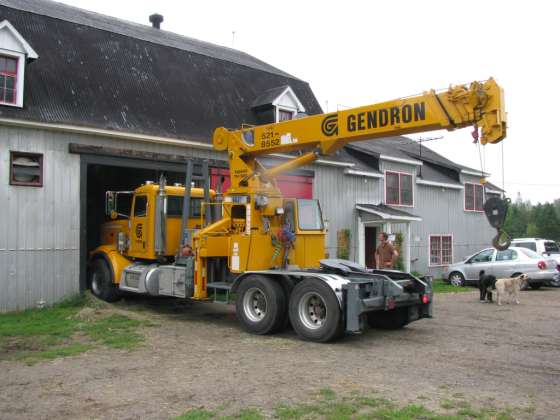 Soon enough, a second crane arrived and we got down to the business of strapping the VG23 in for the ride. In order to clear the back of the truck and fit through the barn door we needed to angle the boat so that the stern was lower than the bow.
Slowly the VG23 was lifted from her cradle and lowered onto a waiting trailer.