Nearly finished installing the seats, benches and bunks.
Assuming that I would be more likely to make mistakes at the beginning of this stage I started in the v-berth and worked my way aft to the cockpit. I found cutting the ply for these pieces to get a nice fit against the curved hull and between the various members to be a bit fussy. My limited carpentry skills tend to become evident when I stray beyond right angles. I was however pleased to note that by flipping a piece from one side of the boat I was able to use it as a template for the opposite side (with some adjustments). It would seem she's relatively uniform.
Folks on the bateau2.com builder's forum gave me some good ideas for designs of latching hatches below decks.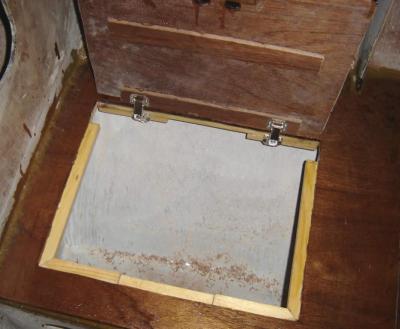 I also ordered a couple of watertight locking hatches to be installed in the cockpit seats. With the cockpit sole installed I have been able to get a good idea how enormous the storage area is beneath the seats in the cockpit. Nearly sufficient space to relocate the quarters of any crewmember who finds my badside. ;-)