I've whined about this before. Each time I use the web interface to acess my email account Firefox presents a Security Error: Domain Name Mismatch warning. The warning occurs because the secure URL I connect to is within my andrewlucking.com domain while the security certificate is issued to Dreamhost, my hosting provider.
Now, technically Firefox is entirely correct in advising me of the issue. What irks me is that I have no way of storing the fact that I am aware of the mismatch and no longer need my browser to bring it to my attention each time I check my mail. Obviously the ideal way to avoid the warning is to correct the problem that is being identified – obtain a SSL certificate for my webmail domain. Realistically though the expense involved does not make it practical. So, after searching for a quick fix and reading through some mildly entertaining flame wars I did what one does in this day and age of the extensible web browser: I built a Firefox extension.
The Remember Mismatched Domains extension for Firefox adds a "Don't warn me about this certificate for this domain again' checkbox to the Domain Mismatch warning window. When selected the domain name and security certificate domain pair is stored in a Firefox preference and the security error dialogue will be bypassed on subsequent visits.
Before trying out this extension I would recommend you read the discussion of a similar entry in the Thunderbird bugzilla database:
https://bugzilla.mozilla.org/show_bug.cgi?id=228684
In particular this entry from Nelson Bolyard struck me as particularly insightful.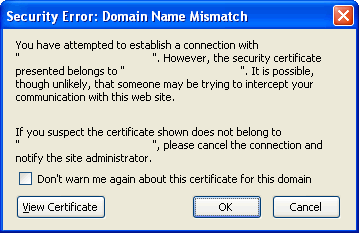 The 0.1 beta version of Remember Mismatched Domains can be installed from here:
remember-mismatch.xpi
It's a beta and could use some testing in different environments. The comments section would be a good place to let me know of any issues or drop me an email.
update: just uploaded version 0.4. Details on the changes here.
update: Now at version 0.5. Which adds support for Thunderbird. Details here.