Localization
The Remember Domain Mismatch Extension has been updated to version 1.2.1. This version adds localization support along with German, Polish and French language translations (thanks to contributions from a few generous RMD users).
More Secure
The other important change for this version is that RMD is now storing fingerprints (SHA1 and MD5) of the security certificate when the mismatch is remembered. This change makes the extension a little more strict in how it remembers a domain mismatch (or expired certificate), thus making things like certificate spoofing a little more difficult.
What This Change Means For You
Not a heck of alot, other than near complete peace of mind. Of course, as we all know, true peace of mind can only really be achieved through actual matching (and un-expired) security certificates.
Unfortunately, for users who have previous versions of RMD installed this update will also mean that you'll have to accept the mismatch one more time. Now I know what you're thinking – "all I have to do is re-remember the domain name mismatch and near peace of mind will be mine! How can I do this right now?".
Here's what I suggest you do:
- After installing the update and restarting Firefox or Thunderbird, attempt to connect to your previously remembered website or mail server with a mismatched certificate. You'll be presented with the Domain Name Mismatch dialogue again (boo, hiss…).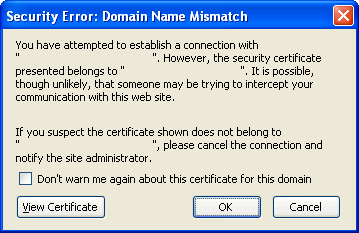 - Examine the certificate by selecting 'View Certificate' (remember the old days when you did this each time you checked your email?). If you like, you can even note the SHA1 and MD5 fingerprints that RMD will store.
- Once you're certain that you want to remember this mismatch check the 'Don't warn me again' checkbox and accept the mismatch. Now everytime that website or mail server presents the certificate with those very fingerprints RMD will go back to automatically accepting it on your behalf.
- If you open the options window for RMD you can view the fingerprints for each mismatch entry by making the Certificate Fingerprint columns visible. Do this by clicking the column picker widget (highlighted in red below). Entries that have no fingerprints stored are legacy entries from previous versions of RMD and can be deleted.
Download
Download the Remember Mismatched Domains extension:
https://addons.mozilla.org/extensions/moreinfo.php?id=2131
update one: argh, okay the udpate needs to be accepted by addons.mozilla.org before being made available for download. I'll post it here for those who just can't wait.
As always please use the comments section (or email) for any feedback / questions / bugs.
update two: editorial – clarified some awkward wording