Fairing has progressed in fits and starts over the past three or four weeks.
After spending a long day hand sanding with the long board I ran out and ordered a pneumatic long board sander. This thing is absolutely my new favourite tool (fuzzy photo warning):

The downside to airtool sanders is that they require a heavy duty compressor to run them. I spent a frustrating day blowing fuses in the barn with a rented electric powered compressor. It ran fine provided the air tank was empty when the motor started. Once it was filled and then partially depleted by the sander the compressor motor would kick in and the amperage it drew in order to push air into the pressurized tank was too much for the barn's electrical system.
My next attempt was with a gas powered compressor. I set it up on the lawn outside the barn and ran the hose through the hayloft window. Damned if it didn't work a charm. It certainly isn't as quiet as sanding by hand but it sure is efficient.
I have some serious high spots on the hull that are going to require a bit of extra fairing attention. These spots correspond to where the side panels were spliced oh so long ago and are a definite result of my having no experience in working with epoxy and fibreglass. I like to think that I've progressed as a boat build since those first splices were layed up. You can see a couple of those areas in the foreground of the photo below. Just look for the Quickfair ;-)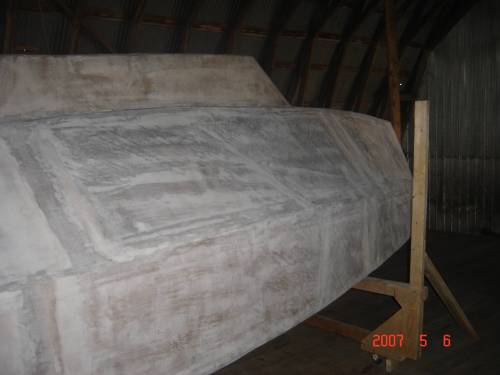 Maybe its because I have a new toy but I'm almost looking forward to using the airtool again.