Version 0.2 of The FDTracer plugin for FlashDevelop 3 adds a couple of setting options:
Open Panel On Compile is the result of an improvement suggestion. When this option is selected the FDTracer panel will always be displayed after a compile completes.
Colour Warnings and Errors adds some colour to the trace statements. Warnings and errors generated by the Flash Player appear in orange and red fonts respectively.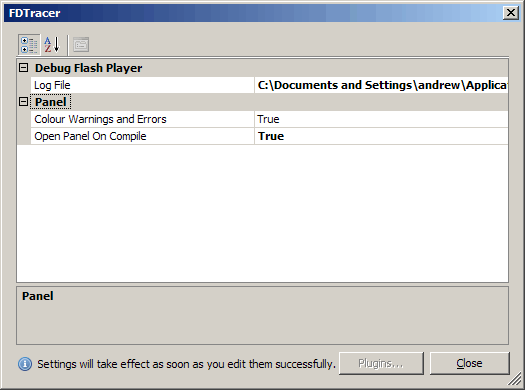 Download FDTracer 0.2:
Download FDTracer 0.3:
http://www.andrewlucking.com/code/fdtracer/
Update:
Argh. I used version 0.2 all week before posting it last night and then this afternoon I came across a bug that was dropping digits that begin a trace statement (eg, trace("1,2,3″); would display as ",2,3"). Version 0.3 should fix that silliness.